10 years Les Amis de Svieta (Switzerland)
This is an archive page of Les Amis de Svieta from 2000-2021
In November 2010 we celebrated our 10th anniversary!




The outcome of our 10 years of activity is rather impressive:
about 80 children were helped
projects in 20 different orphanages were realized
20 trips to Ukraine
about sFr. 350'000 .- donations received from 422 donors from Switzerland, from further donors from Germany, New Zealand, Ireland and Spain
partnerships established with various organizations
an organizational structure established in Ukraine
8 Newsletters published in two or three languages
website in three languages with many articles
a large online album with many pictures
hardcopy booklet with many pictures
It all began in the hot summer of 2000, when we met the girl named Svieta. Who would have thought we'd still be active in 10 years time? Probably not many, and certainly not us. In fact it is thanks to your great help and support in all of its forms in all those years, that we were able to assist those in need. Thank so much!
We celebrated the 10 years anniversary with a typical 'St-Martin' meal on November 21st, 2010 in Saint-Brais (Jura, Switzerland).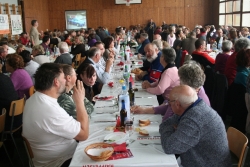 St. Martin meal at the gymnastics hall in Saint-Brais
Thanks to your kind and generous ongoing support we will continue for another 10 years and more! 🙂
Here are more pictures.