Visit to Olga Igorivna in 2010
On Mai 25th Hanneke, Vika, Pascal and Tom visited Olga at her school in Kakhovka – by car almost two hours away from Nikolaiev. Olga was expecting us and showed us her room. She had her monthly accounts including receipts ready for us.
In reviewing the accounts presented to us, Olga could answer questions only with difficulty. The situation was subsequently somewhat difficult. Olga meant by 'saving money' that she can spend the saved money later without control and without accounting. We understand by 'saving money' that the money is saved, not spent and still available in a bank account.
In September 2010 Olga will start her final year of her studies. Her test results are very good 🙂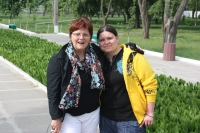 Hanneke Aellig-Alberts and Olga

Afterwards the 5 of us went to eat in the same restaurant as always, and we walked down to the River.
The two-hour return trip on the famous Ukrainian roads went without problems.

You can read about previous visits to Olga below:
1st visit to Olga in November 2006
2nd visit to Olga in September 2007
3rd visit to Olga on 23.11.2008
4th visit to Olga on 16.09.2009