Visit of Olga Igorivna in 2008
On Sunday November 23rd Vika, Pascal, Jim and Tom drove to Kachovka. It was a cold but sunny day. We went to revisit Olga Igorivna at her Agricultural Technical School and to see her room at the dormitory.
We discussed all open issues and we brought her many presents from Hanni and Kathrin.
After the visit we took Olga Igorivna to a Ukrainian restaurant for a nice meal, before driving back to Nikolaiev.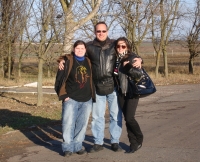 Olga Igorivna, Jim from LAdS USA and Vika
You can read a previous article about Olga here.