Visiting Olga Igorivna in Kakhovka
On September 16th 2009 Pascal, Vika and Olga Ivanovna (NBH director) visited Olga Igorivna (Olga) in Kakhovka. Les Amis de Svieta supports Olga for more than 1 year (and at least 2 more to go). The aim of this support is to allow Olga to learn a profession. We visited Olga for the first time in November 2006 and did on a regular basis ever since. In September 2007, Olga started her studies at technical agricultural school in Kakhovka. Our last visit to Olga took place almost a year ago, November 23rd 2008.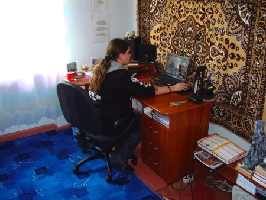 Olga was awaiting us eagerly and was happy to show us her new room on 2nd floor, which is in much better condition and nicer than the previous 4th floor room. Unfortunately kitchen, toilet and bathroom are still in an unacceptably bad condition (for us).

As always when we visit Olga, we review accounting and receipts for the items she bought thanks to the generous support of Hanni Aellig and Kathrin Rudolf. And as always, Olga's accounting was immaculate and all receipts were neatly sorted by month and bundled (here we have to tell that collecting receipts is a typical Swiss habit, while it's rather uncommon for Ukraine).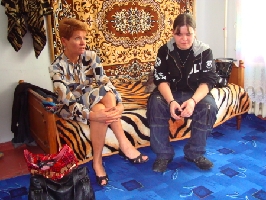 In one way we can understand why Olga Igorivna doesn't eat healthy, considering the kitchen state: no fridge, no working stove and all a big mess. Olga Ivanovna and Vika convinced Olga Ivanovna that she must study the cook book that she received from her Swiss sponsors, and use it.
At the conclusion of the visit, all four went to lunch at the only "good" restaurant for miles around.
Olga is now mid-term, she has been in this school for two years and her study will take another two years. Until now, Olga has passed her exams with success and we wish her continued success!
You can read a previous article about Olga here.