Trip report fall 2007
Friday October 12th
Pascal is back home in Switzerland.
Pictures and more detailed reports will follow, once Pascal has recovered from this trip.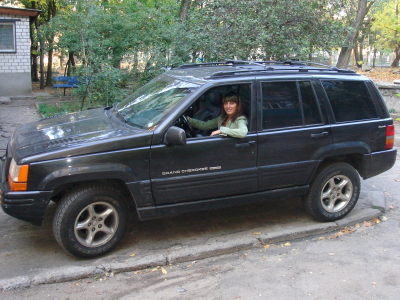 Thursday October 11th
Today we drove first part of return trip without problems. From Ukraine to Germany it took us a little more than 13 hours. Not too bad 🙂
Wednesday October 10th
Today we visited two interesting orphanages in Nizhny Vorota and Chinadievo.
Vika found a perfect flat in Uzhgorod for our last night in Ukraine.
Tomorrow we will hit the road back home 🙂
Tuesday October 9th
After a 12 hours drive we found a cozy motel to spend the night.
Tomorrow we will drive into the mountains to visit yet another 3 orphanages.
Monday October 8th
We spent the day in Nikolaiev with absolutely superb weather and fantastic autumnal colors. This was the ideal day to reload our batteries before tomorrows drive across the Carpathian Mountains and then back to Switzerland.
Sunday October 7th
We are back in Nikolaiev, after one day spent in Kiev. Tomorrow is a day off.
Early Tuesday morning we will start driving back home. Crossing the Carpathian Mountains we will visit the last 3 orphanages.
Friday October 5th
We visited 2 specialized boarding schools on behalf of OBS. Contrary to the first information we received, they are not in such a bad condition. We used the money from sponsors to buy sports and school material.
The weather is fresh in Zhytomyr and we were attacked by voracious mosquitoes :down:
Thursday October 4th
First day dedicated to OBS. We visited today the Baby House in Kremenchuck and we had a look at work that was done and we learned about new requirements.
Afterwards we drove to Zhytomyr, where we arrived very late. It took us more than 2 hours to drive across Kiev :bug:
Gloomy beginning of day, but sun reappeared at the end of the day.
Wednesday October 3rd
We continue our trip in Ukraine and, after having delivered mail in Kharkov, we have stopped for the night in Kremenchuk. The Indian summer also continues to accompany us. For the moment, we are on schedule.
Tuesday October 2nd
Today we visit the specialized orphanage of Gay Zeleniy where we inspected the gas burner project we realized. We also spent the evening with our local team, with Galina Barbulat and her family.
Monday October 1st
After a visit to Baby House Antoshka in Kramatorsk we arrived in Kharkov, where we will continue our work to deliver pictures and news from families who have adopted from those local institutions.
Sunday September 30th
This morning we drove to Donetsk. The Ukrainian town of Donetsk is of all cities we visited the city that comes closest to European standards.
An other hot and sunny day today.
Friday September 28th
An other day in Kherson where we visited 2 new institutions (orphanage for 4-8 year old children in "Teremiok" as well as a boarding school (school internat) for 8-16 year old youngsters). An American family had requested us to visit them. These visits enabled us to confirm (once more) that the situation of orphanages and of boarding schools has improved a lot in the 6 years we help orphans in Ukraine. Indeed, it is not any more an urgent request for food and not for clothes either. They now have infrastructural problems (windows, heating, plumbing, kitchen, etc.) as well as requests special educational toys for children. Staff training becomes also one of the priorities of the directors and they realized that quite a few problems are related to malformed personnel.
We quickly stopped at Kherson Baby House before we returned to Nikolaiev.
Superb, extremely hot day, a true Indian summer 🙂
Thursday September 27th
New morning dentist visit for Vika. She seems to have a dental infection :long:. We nevertheless managed to be in time for the meeting with director Olga Ivanovna of Nikolaiev Baby House. We reviewed the usual questions relating to the potential children needing assistance, the projects in progress, the situation of adoption, etc. The director invited us to visit those children whom we currently help or have helped. It was an extremely interesting discussion. The new ideas developed to improve condition of orphans are promising.
More on this subject as well as images at the time of Pascal's return.
Wednesday September 26th
After Vika's morning visit at the dentist (she had tooth ache) we travelled to Kakhovka (Kherson region) in order to meet Olga Barkova "at her place". We visited her new school as well as the room where she will live the next 4 years. We talked to the persons in charge for her school to assure that all administrative parts are in order.
At the end of the day we return to sunny Nikolaiev.
Tuesday September 25th
We have delivered goods to Nikolaiev Baby House and we discussed the state of affaires with director Olga Ivanovna. We will have a longer meeting with her on Thursday.
As always on the first day we performed urgent tasks (phone calls, scheduled meetings, recharged prepaid phones, etc…).
Monday September 24th
We arrived late at night in Nikolaiev. After we emptied the car we straight to bed. As always, we forgot that traveling time in Ukraine takes twice as long!
Work begins now.
Sunday September 23rd
We have crossed Hungary west to east.
Vika joined us at the border. Thanks to Vika, we passed the border in record time. We have even crossed Carpathian Mountains. First night in Ukraine!
Saturday September 22nd
This time we are on the way and we spent the night just before the Hungarian border.
Friday September 21st
Departure from Switzerland to Munich where I picked up Natasha (mom of Vika) which benefits from my trip to spend a few days in Nikolaiev. She will also join me on my return trip. We spent the night in Nürnberg.