Olga Ivanovna goes to Kiev for yet an other chemo therapy
Updated news December 31st, 2015 Olga is at home, recovering from chemo therapy!
A big THANK YOU to all of you who have donated money to make this cancer treatment possible!!!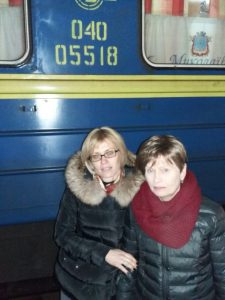 Olga Ivanovna and her daughter Sasha waiting outside the night train from Nikolaiev to Kiev.
Update December 31st, 2015
Olga is currently at home in Nikolaiev, recovering from chemo therapy. Olga still feels weak and gets tired quickly but sickness is almost gone. Olga goes to work at NBH for a few hours each day.
In 2016, Olga will have to travel again to Kiev, for Radiation Oncology.
Needless to say, we urgently need more donations to enable Olga to continue the best treatment for her particular situation. Please help!
Donations for Olga Ivanovna:
If you would like to donate, please contact directly, so she can send you instructions on how and where to send money.
Here you can read about the operation in November 2015.
And here you can read how it all began at the beginning of October 2015.