Call for donation and news about Nikolay
This is an archive page of Les Amis de Svieta from 2000-2021
Updated news as of July 27th 2008 can be read here.
Updated news as of June 15th 2008 can be read here.
Updated news as of May 28th 2008
In March 2008 Nikolay was taken to the Institute of Urology. The doctors were glad to see him again and admitted that he had made unexpected progress in physical development (the boy really has grown a lot). The chief doctor of the hospital called several other doctors, they had a conference and they came to the conclusion that Nikolay can be operate in Kiev. The operation will take place on May 12th.
Nikolay will be accompanied and looked after by a nurse. Transportation to Kiev, operation and accomodation for two months will cost approx. $ 4,000 (CHF 4,000 or € 2,500).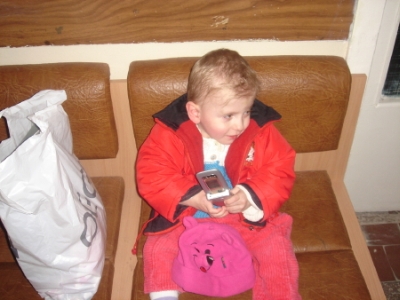 Here you can read the first and second article about Nikolay.
Please consider making an online donation to help Nikolay.

Updated news as of May 28th 2008.
Once again, thanks to your generosity, there was enough money available for this operation and on May 12th 2008 Vika traveled together with Nikolay to Kiev. After 2 days of preparatory studies Nikolay was ready for the big day. Vika meanwhile took care of required material and medication for Nikolay's operation. On May 15th 2008 Nikolay was operated on for the first time, an operation which we awaited since 2005. He spent more than 8 hours in surgery and everything went well.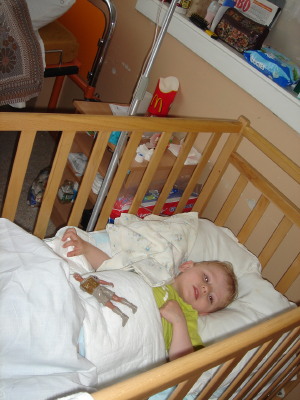 3 specialists in urology, orthopedics and plastic surgery have succeeded in all the steps as planned and Nikolays bladder is at the right place for the first time. There was even a first step towards surgical restoration of Nikolay's genitalia.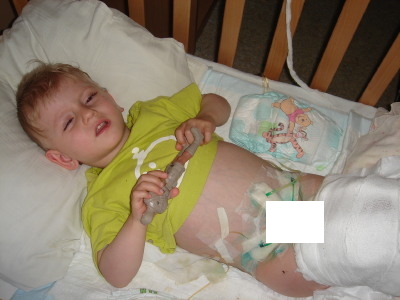 Of course, this is only the first operation, but without doubt the most important one. He now remains for at least 6 weeks in urological institute in Kiev, to control and monitor the urinary tract and intestinal functions. His body needs to get used to this new situation and if all goes well, Nikolay should be home in Nikolaiev for the summer holiday.
Thanks to the care of the surgical team and the negotiating skills of Vika, the expenditure on pharmaceuticals and material could be reduced. This has allowed us to donate to the urological institute as a thank you two air conditioning systems for their operating rooms.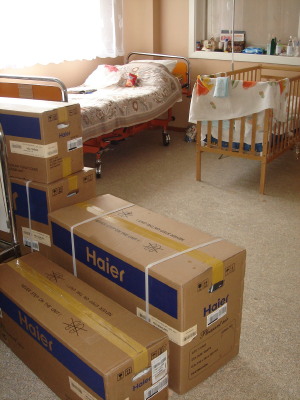 A very big thank you to all our donors for making Nikolay's first and for his future is so important operation possible.
Updated news as of June 15th 2008.
Nikolay returned on June 15th to Nikolaiev and is expected to spend 2 months of summer holidays at NBH before he will return to Kiev to continue his treatment.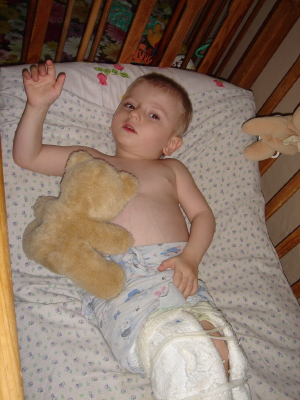 Updated news as of July 27th 2008
Nikolay's plaster has been removed on July 27th. The doctors in Kiev were quite happy with the result after this first difficult operation. Good results were confirmed by X-rays. He has not lost his pleasure to stand up and walk as soon as he returned to the apartment in Kiev.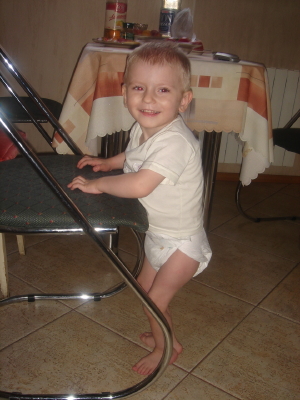 Nikolay will benefit from a specific therapy (massages and gymnastics) to strengthen his muscles before he is scheduled to return to the hospital in October.
No doubt, Nikolay will require further surgery.
Please consider making an online donation to help Nikolay.
From the United States it is also possible to wire money by contacting Jim Smith, or cell phone #404-226-8638