April trip report
Sunday April 13th
Mission completed :exclaim:
Pascal and Vika have arrived late at night in Nuremberg, after extremly long queing at the Ukrainian – Hungarian border and after some mechanical problems with the car. All is well that ends well.
Thursday April 10th
After they resolved the last tiny details they are now ready to drive to Germany :coolsmirk:
Wednesday April 9th
Finally, done! They have obtained all the necessary papers to drive back to Germany by car. After endless discussions and long hours waiting they have received just what they were entitled by law anyway, nothing more.

Tuesday, April 8th
I am afraid that from today on this Blog becomes boring to reading. They spent the last two days waiting for good will of these nice gentlemen in important government positions (few women exercise these occupations here 🙂 ). Numerous telephones, researching law articles in the Internet, etc.. Nothing very exciting, but essential, if they want to start driving home on Thursday. They even found time to deliver to the print shop the documents for the book for Mr. President. Unfortunately they will not see the finished version before their departure. They will have to save that for their next trip.
Monday April 7th
The rain is back in full strength :shut: Pascal's shoes just had just enough time to dry before the rain came back. As planned, we dedicated this day to overcome administrative hassle in order to recover the German license plates for our car, so we can drive back to Nuremberg.
Sunday April 6th
Today we travelled to Kakhovka to meet Olga.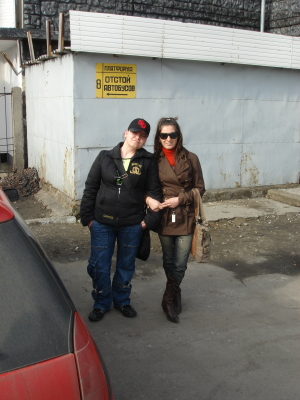 It is with great pleasure that we could observe that her room is very very well taken care of and that she takes great care of all the furniture and other stuff that were given to her. Moreover, we were totally impressed when she showed us her first 6 months of accounting. After an other long discussion about her motivation we decided to purchase a portable computer that will help her with her studies!
Saturday April 5th
Finally a little bit of sunshine appeared today and the roads started to dry.
We spent the day preparing a book that we would like to deliver to the print shop before our departure.
Friday April 4th
Today, we went to Nikolaiev Baby House where we could check work progress of bathrooms renovation (2 are currently ongoing). We could also meet Ilona, Nikolay and Vitaly.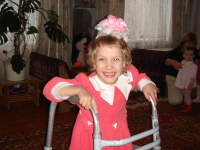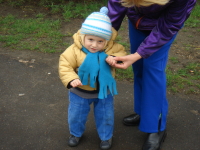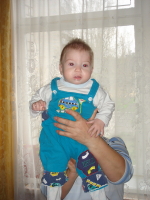 Unfortunately, Natalyia wasn't there. She will be operated at paediatric hospital of Nikolaiev next Tuesday.
Great news: Mr. President Yuschenko will visit Nikolaiev Baby House end of April! Director Olga Ivanovna asked us to prepare a book containing many pictures recalling the last years at the orphanage and, of course, full of pictures with children. Fortunately, I have my laptop with the whole picture archive with me 🙂
Thursday April 3nd
Water, water, just water :-/ The streets in Nikolaiev are transformed into streams and it is impossible that our feet remain dry.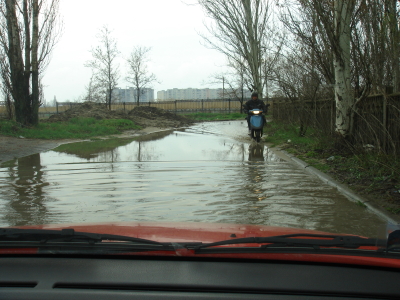 We still managed to take the first steps to exchange the licence plates for our car, from Ukrainian to German plates. Everything takes a lot of time and the weather does not help either!
Wednesday April 2nd
Pascal has travelled by train to Zurich and by plane via Vienna to Odessa. He arrived well in Ukraine and Vika collected him by car and they drove together to Nikolaiev. Terrible rainy weather, all is muddy and dirty.