Update Ukraine
We hear new reports from Ukraine almost every day in the news. Here we report from the orphanages "NBH" and "ZuBS" and from personal friends in Ukraine.
We did not want to publish a war picture, so this round table with the Ukrainian president surrounded by European government representatives is a symbol of the current situation in Ukraine.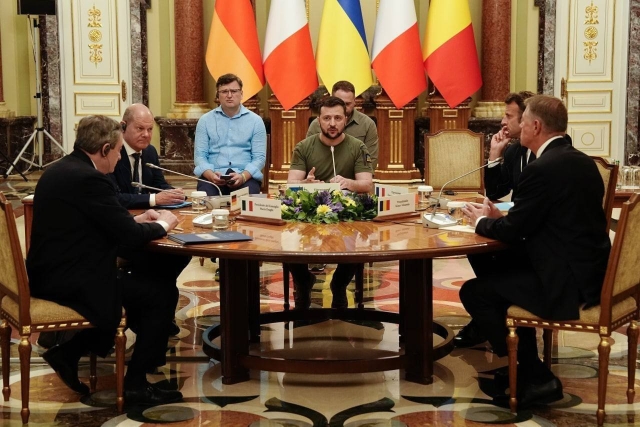 Kherson
Kherson is under Russian administration (and so is ZuBS). Ukrainian SIM cards do not work in Kherson anymore, the local mobile network works with Russian SIM cards.
Ukrainian and Russian money is used in parallel, with Ukrainian cash disappearing. It is impossible to get hrv from ATMs. However, it is possible to exchange hrv for rubles. Exchange rate is 1:1.
Tatyana Grigorievna (director of ZuBS) reported that they receive food and medicines from the Kherson region administration.
At the moment it is not possible to enter the Kherson region from the Ukrainian side, only from the Crimea.
That is, if Vika were to travel to Nikolaiev in August, she would not be able to visit ZuBS.
Chernovtsy
NBH is in Chernovtsy. Slowly more and more female employees of NBH are quitting. They are replaced by local nurses. They don't want to work in Chernovtsy. Too far from home. Since Nikolaiev is now a frontline zone in the war, the children will not be brought back. It is to be feared that NBH will stay in Chernovtsy for a long time and slowly NBH will become CBH now.
Nikolaiev
For a long time it was quiet in Nikolaiev. However, for a few days there has been shelling again. Attacks on Kiev and Odessa are almost daily.
Drinking water is still delivered/distributed in trucks. The source was a river in the now Russian-occupied territory and this pipeline was damaged, he said. There is water in the pipes for toilet flushing and washing, but not for drinking. Viktoriya Dobrzhynska runs a shoe store on the market in Nikolaiev. The saleswoman had fled to the West and so the shoe store remained closed for months. The good news is that Vika's employee is back and next weekend the store can open and shoes can be sold again.
Galya Barbulat, a friend of Vika who also worked for the association, was in Germany for a few weeks with her husband. But now she has returned to Kharkov (in the very east of Ukraine). Galya is helping her mother to take care of her father (he had a stroke).