Trip report fall 2011
Sunday November 13th
2011 fall trip is over, Christophe and Pascal landed safely in foggy Switzerland in late afternoon.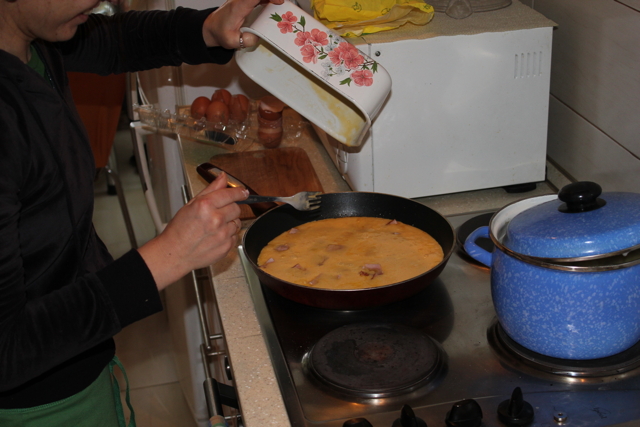 After a copious and very tasty breakfast prepared by Vika, we headed to Boryspol airport to fly back to Zürich via Vienna.

Saturday November 12th
Time to head back as our fall trip comes to an end. Vika, Christophe and Pascal first headed to NBH to pick up Karina and her nurse before hitting the road to Kiev in a completely full LAdS car!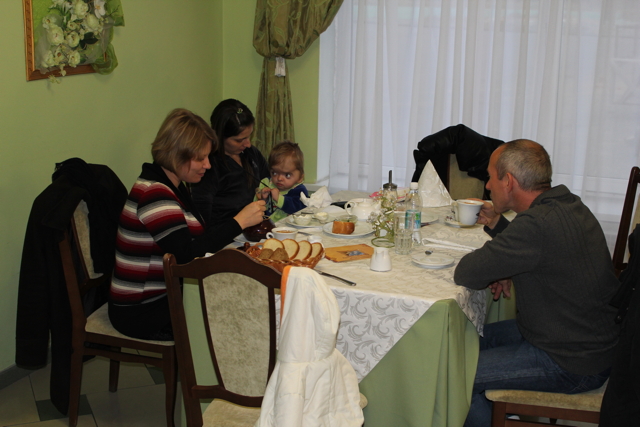 We arrived late but safely. Even though snow welcomed us when we arrived in Kiev 🙁
It was a long and tiring trip for Karina who appreciated the warmth and comfort of our rented flat.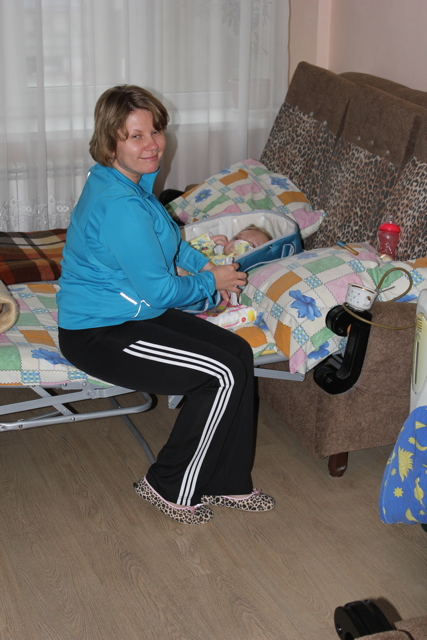 Friday November 11th
After having enjoyed Nikolaiev markets in freezing cold with Christophe and had LAdS car winter wheel changed for our next rip to Kiev, we went back to I#2 (see entry from Thursday) with fruits and pastries to meet with some "old" friends 🙂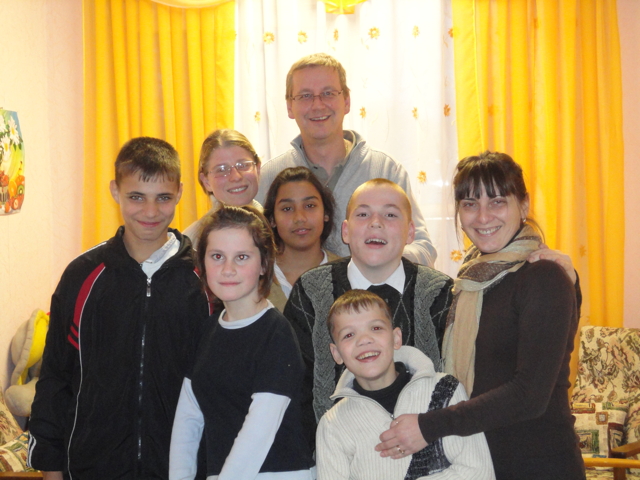 Yes, Kolya, Vika, Ira, Inna, Dyma and Kirill (from left to right) are still there and recognized us. We spent a wonderful moment with them sharing memories and showing them pictures of up to 9 years ago (from LAdS 10 years photo-album) when we did organize some help for them.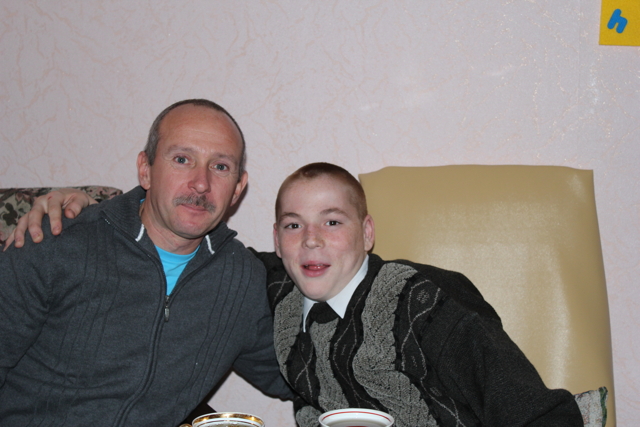 Although they were all a little shy in the beginning, they were all very friendly and talkative about their memories with LAdS (thank you Mc Donald's :-D) and their projects for after school internat.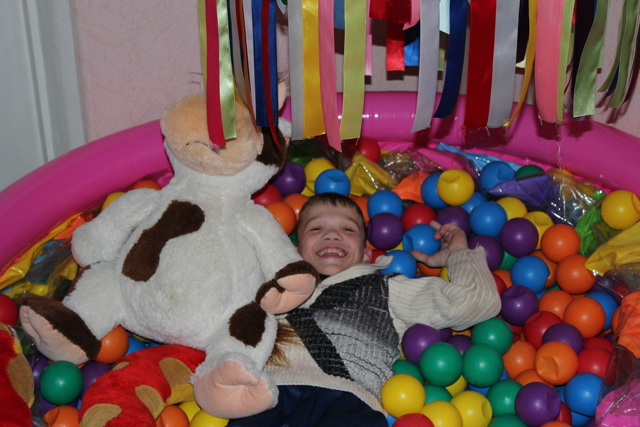 What an ideal last meeting to finish our week in Nikolaiev!
Thursday November 10th


Yes, we have been visiting Nikolai at School Internat #2 (I#2) in Nikolaiev !
We hadn't been there for years, but NBH director Olga Ivanovna told us that Pervomaysk orphanage had been closed down (as expected for a few years…) and all its children moved to I#2. So we decided to go there and were pleased to meet with Nikolai again, and to hear that some children we have helped in the past are also still living there.
Director has changed and we were heartedly welcome to visit his establishment.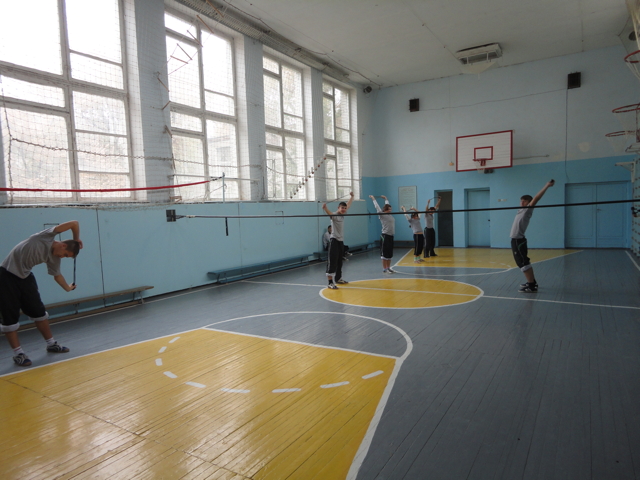 New management team has put a strong focus on sport activities for all children. Many of them have already been very successful at national level and some even at international Paralympics level (numerous titles and medals won).
A lot of efforts have also been made to properly host the 15 young children from Pervomaysk. Since last summer, director has been able to re-create the "usual" group structure found in orphanages for all newly transferred children and the result is pretty amazing.
Christophe decided to spend some money for I#2 urgent needs and we went shopping for sport gears. Which we then delivered to the greatest joy of children and I#2 teaching team. A huge thank you to Christophe and his sponsors for this "on the fly" donation !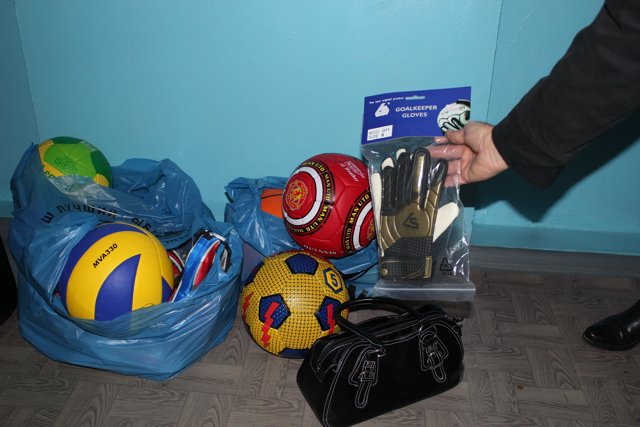 Wednesday November 9th
Second Baby House visit for Christophe today. And this time a thorough one in Nikolaiev (NBH) one.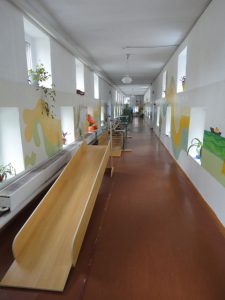 As usual, when LAdS newcomers arrive, Director Olga Ivanovna take the time to show wand explain everything which has already been done and what still needs to be done. She also shows all children and allows us to spend short time with them. This time Christophe had taken a bunch of teddy bears we were allowed to distribute to any child we wanted.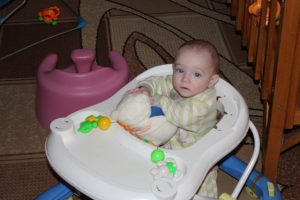 We also longly discussed new children to help and coming projects which I will report about later. There is still a lot to do and we will surely need your support !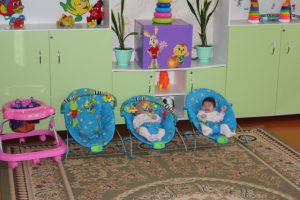 Tuesday November 8th
Today was reserved to pay a visit to Olga Igorivna. Since she moved to Nikolaiev and found a job, it was first visit from LAdS representative to her new place.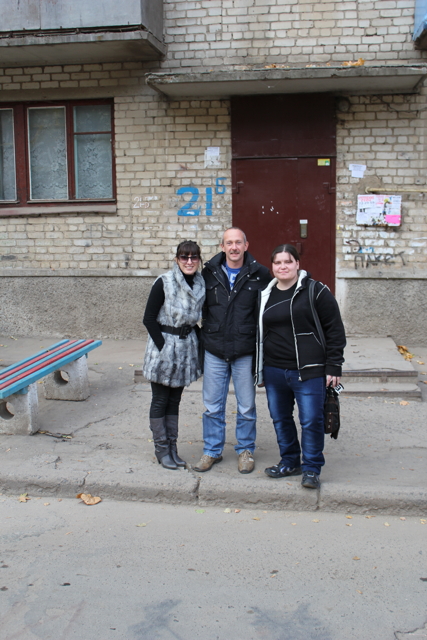 It was a real pleasure to see her happy and smiling. She's doing very well. She lives in a small but very well maintained flat. We spent some time at her place and then drove her back to downtown where she had to attend some classes since she has decided to pursue her education aside from her job !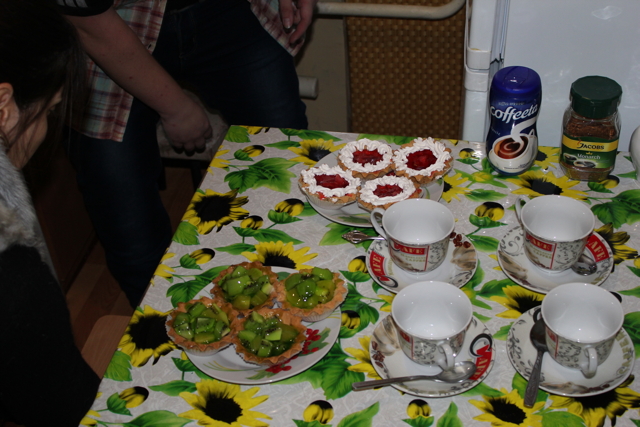 We finished the day at a local restaurant with a some ukrainian specialties (bortsch, kwass, etc) 🙂
Monday November 7th
First orphanage visit as non-adoptant for Christophe in Kremenchuk Baby House.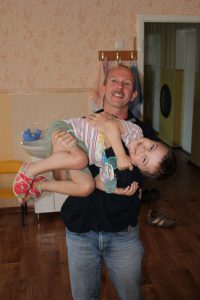 We discussed ongoing activities, projects and problem with director Lydia and visited the a couple of groups as well as kitchen (which OBS helped refurbishing). Out of 10 groups, 8 needs a bathroom refurbishment project like we did in Nikolaiev Baby House (NBH) in the previous years.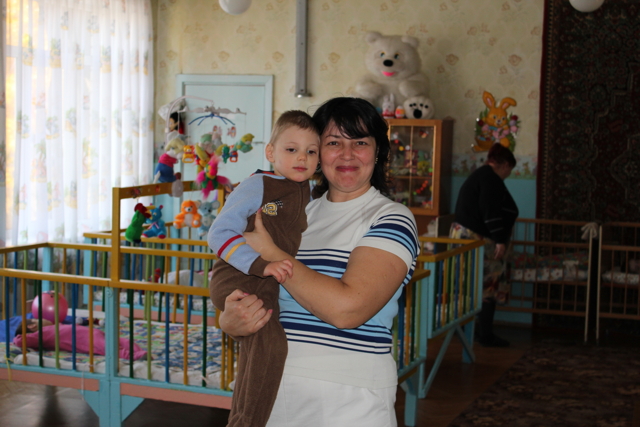 We were allowed to distribute chocolate and spend a little bit of time to some children.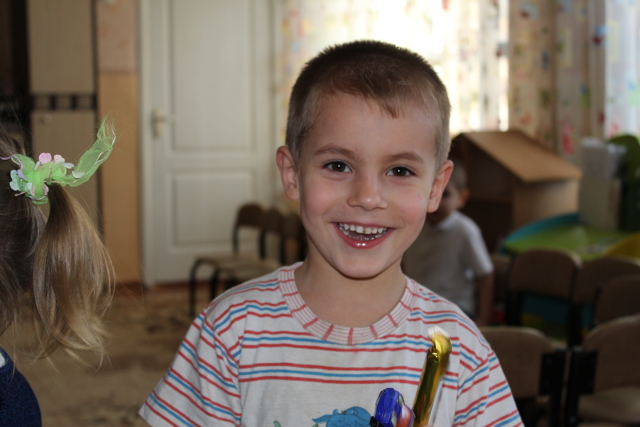 Around noon, we left for Nikolaiev where we arrived pretty late due to absolutely terrible road conditions.
Sunday November 6th
Christophe arrived on schedule at Kiev-Borispol airport and we drove him "home" for a short first ukrainian night 🙂
After a good breakfast together, we hit the road again heading to Krememnchuk where we arrived end of afternoon. We found ourselves a nice and very cheap 3 room flat and met with Anya (local OBS representative) for supper in our favorite ukrainian typical restaurant.
Saturday November 5th
After saying goodbye and wishing good luck to Pasha, we hit the road back to Kiev to go pick up Christophe who shall arrive in late evening.
Friday November 4th
We had early appointment with Pasha for another blood test and to get results from the first one. Poor Pasha got sick after the test and we had to rush back home to let him have a rest and do some laundry. Vika and Pascal then went to visit Natasha and her daughter Rosa in the outskirts of Kharkov where they now live.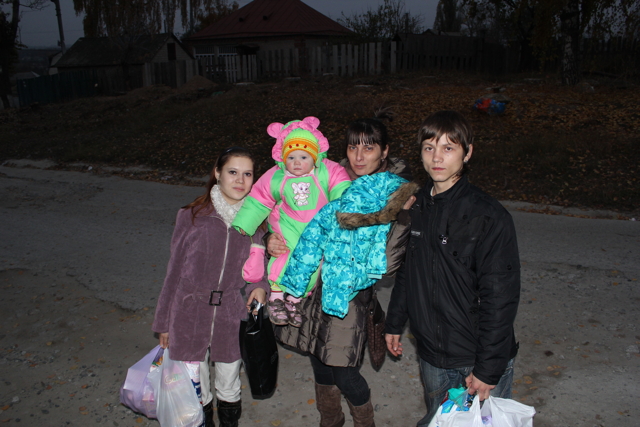 We finished the day with a very nice supper that Galya (LAdS Kharkov representative) cooked for us all together, including Pasha and his nurse 🙂
Thursday November 3rd
After having packed our stuff from the nice rented flat we had, we drove to Merefa to meet with a new swiss sponsored girl named Vita from Zeleniy Gay Internat.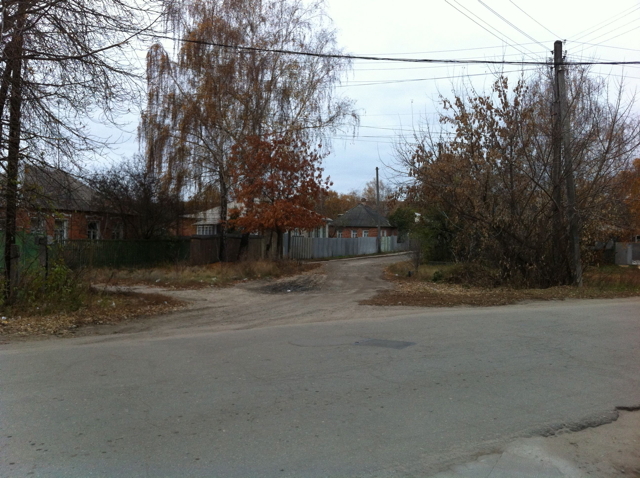 We had lunch together with Vita and Natasha (sponsorship program responsible person at Zeleniy Gay Internat) to assess and discuss Vita's situation.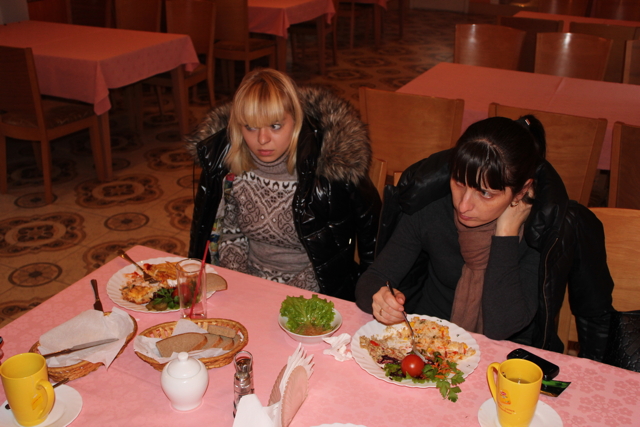 We then drove back to Kharkov to find a new flat for the rest of our stay there.
Wednesday November 2nd
As planned, we all went pretty early to perform blood tests with Pasha in the morning. Results are positive and nothing seems to be on the way to prevent first orthopedic surgery. After driving Pasha & Natasha back to hospital, we went to visit Zeleniy Gay Internat teenagers sponsored by swiss families.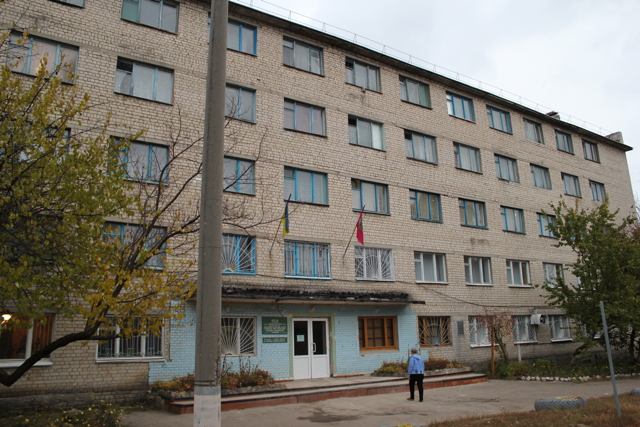 Boys and girls are living in separate buildings, by groups of up to 5 by room. Bathrooms, toilets and eating room are shared by all teenagers and laundry is by hand… Although place is clean and well kept up, these are pretty tough living conditions for teenagers.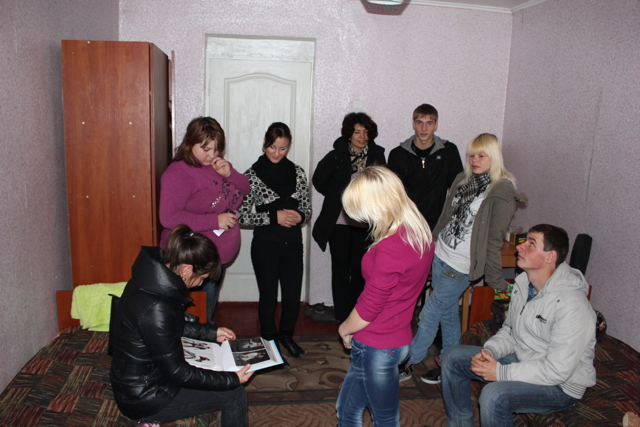 After visiting their facilities, we went out for supper and entertainment in a huge shopping mall. Natasha, Vadim and both Sergei seems to have enjoyed their time in the game "wonderland" 🙂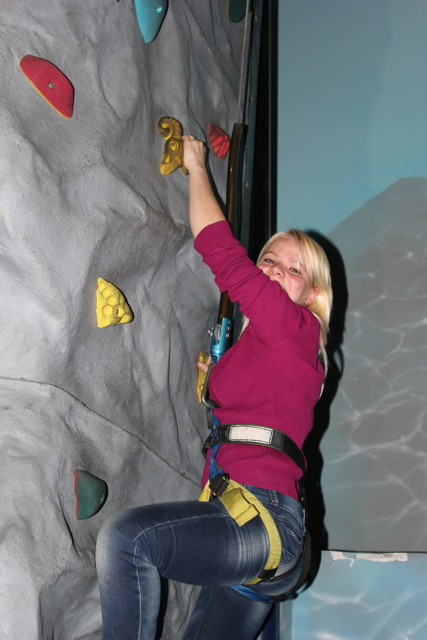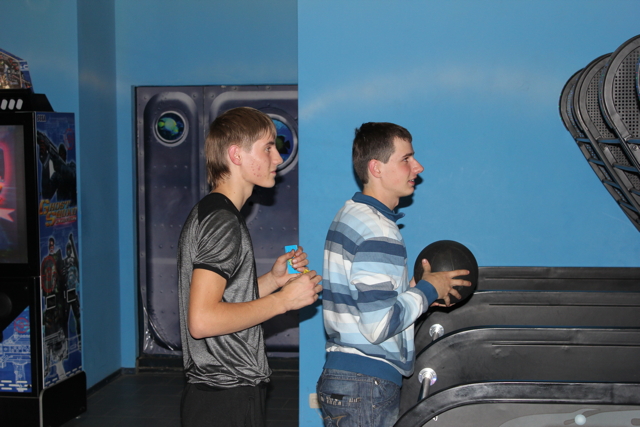 Tuesday November 1st
Another day mostly spent at hospital with Pasha. Things went on much better today and he got a bed in a crowded room. He then went for Xray session while Vika and Pascal drove back home to get all stuff for their stay. We then all went for lunch in a café nearby. Since the next tests (blood test) will only take place on Wednesday early morning, we decided to bring Pasha and Natasha for one more night at home, in a proper bed in a quiet place.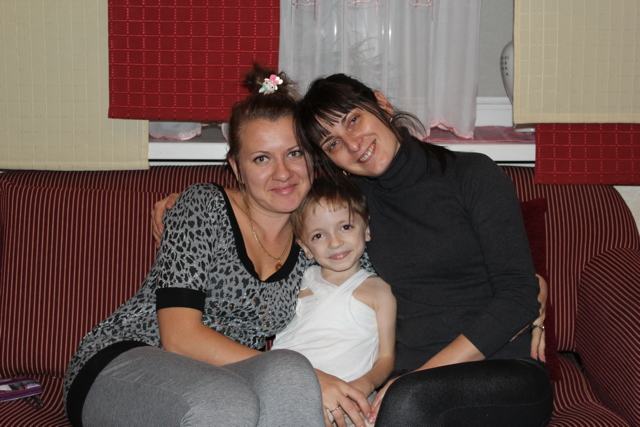 Weather was lousy today, some rain and very cold (well that's normal for November in Kharkov isn't it ? ;-))
Monday October 31st
We spent most of the day at Sytenko Othopedic Institute with Pasha, Natasha (his nurse) and Vika. Even though visit was planned and announced, it's been pretty difficult to get through and at the end of the day, there was no bed free for Pasha until Tuesday. In any case there won't be any bed for Natasha for the whole stay, so we went on and buy her a foldable one she will have to use if she wants to stay with him during nights.


We finished the day in our flat having supper with Galya (our Kharkov local representative), Vlada (her daughter) and Artem (her boyfriend and our phone GPS to travel across the city ;-)).
Sunday October 30th
Met Pasha and his nurse Natasha at breakfast in the morning in Kiev.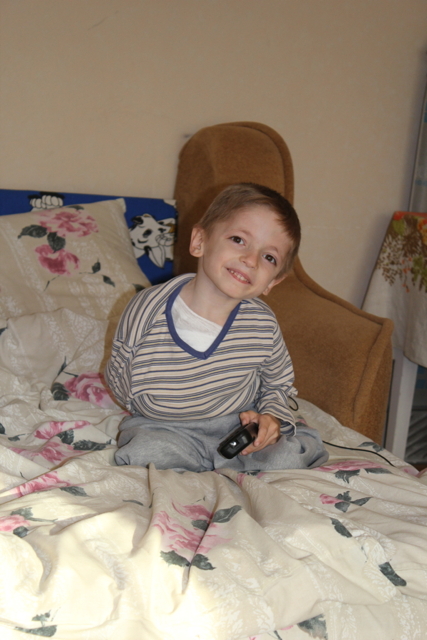 We then all together drove to Kharkov where we arrived in early evening. Summer time change makes a big difference here, at 5 PM it's already night time 🙂
Saturday October 29th
Pascal has departed by plane via Münich, to Kiev. Safely arrived in Kiev where Vika was awaiting him, but almost in the middle of the night!