Natasha's family
On May 21st Pascal and Vika visited the sponsorship program at Zeleniy Gay boarding school for teenagers and were introduced to Natasha (Nataliya Yulievna), a 17 year old student, learning floristic skills. As it happens in life, Natasha is pregnant from Liocha (Alexey Evgenievych) and will give birth to a baby girl soon.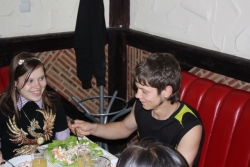 Natasha and Liocha



We discussed with the two young parents 'to be' what their plans were and what their wishes are. We sent them with their teacher and Galina (LAdS representative for this region) to consult a lawyer in order to ensure that both wouldn't loose any of the rights allowed to orphans by the state. After that it was clear to us, that we wanted to help the teenagers to start a family and live all together. The Ukrainian government will pay for a small flat, once they register the new born child etc. But Ukrainian paper work is known to take ages. In the mean time, we agreed to pay for a flat and we've found a Swiss lady who committed to pay flat renting fee for the time being.
If all goes well, Natasha will be able to live nearby the school and thus continue her professional education for an other year. She will also be able to live with her baby and boyfriend.