Karina has Apert Syndrom
Karina was born on Christmas Eve (24.12) in 2009 and abandoned by her mother right after birth at maternity hospital. The girl has a very rare disease: Apert syndrome, which results in an unusual head shape, mental and physical delay. As side effect of this illness Karina has been unlucky to get complete syndactyly (fusion of all fingers and toes).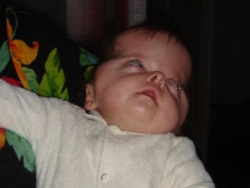 Karina
Karina is living at NBH since 2010.
Please visit this page to find out how you can help Karina!
Or just click on the "PayPal Donate" logo in the right column.

Persons with the Apert syndrome have a distinctive looking face and a special head form due to incorrect skull bones. In the mid-face they have a bone hoop (ring) which squeezes the head and makes it look like a pear. Besides "abnormal" appearance this hoop damages eyeballs and causes terrible head aches.
To reduce the hoop's pressure in Karina's head and to improve her eye positioning she was operated twice at the neurological institute in Kiev (in winter 2010 and 2011).
Though operations may not have made her head shape "standard", they definitely allowed the girl to start moving and lifting her head as well as to sit up.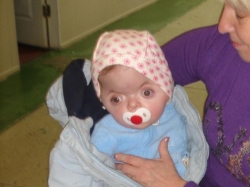 Karina
Meanwhile Karina was getting older and was getting interested to explore the world around her. The biggest problem for her has become to touch and to pick up things. That's why Olga Ivanovna (Director of NBH) took the decision to stop with head operations for a while and do something for her fingers. In May 2012 Karina went to Kharkov's orthopedic center where the long process of her fingers' separation started. This has to go step by step, finger by finger.. otherwise the brain might not accept the changes. The right hand thumb was the one to start with.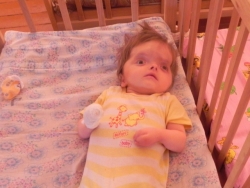 Karina
In November/December 2012 the girl travelled to Kharkov again to get her left hand thumb corrected. This operation was possible due to the kindness of Karina's sponsor – Hanni, a wonderful lady from Holland who has accepted to take the girl under her protection and sponsor ALL her future treatments and operations.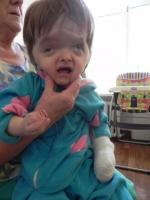 Karina
Now the girl is doing well. Bandages on both hands have been taken away. She is learning to use her first fingers and is getting ready for her next trip to Kharkov in spring…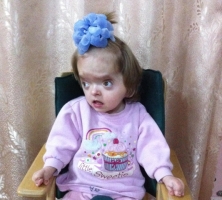 Karina
The story of Karina will be continued…