Efficiency enhancement in heating system at NBH
This is an archive page of Les Amis de Svieta from 2000-2021
Update as of February 23rd, 2010
Mission accomplished 🙂
In spite of difficulties we managed to finish partial renovation of the heating system before beginning of winter. And, as you perhaps read it in the press, this winter was particularly hard and snowy in Ukraine.
Director Olga Ivanovna is extremely grateful to our sponsors for having made it possible to the orphans to live during winter time in a heated home!
Update as of October 15th
We managed to secure financing for the whole project. A big thanks goes to our generous donors! But this time there is a delay on the construction side of this project. Also the new heating is already in operation, not everything is finished and we are holding back payment until every last bit is finished to our satisfaction.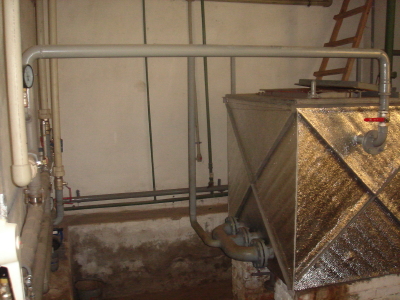 Update as of August 15th
We managed to secure only partial funding for this project so far. In order to ensure hot water supply for mid-October, work has already begun!
Work should be completed by early October and we are expect to 'find' the missing $ 1,500 by then. 🙂
---
In fall of 2002 we were able to replace the obsolete heating and warm water system at Nikolaiev Baby House, thanks to large donations from USA. Since winter 2002/03 babies small children had cozy temperatures in their rooms and didn't freeze anymore during winter time.
As we all remember, Russia had cut off delivery of gaz to Ukraine in Winter of 2008/09 and further more, one of the three burners broke and would need to be replaced before this winter. Director Olga of NBH has worked out an efficiency enhancement project (see schema) that eliminates the need for three burners and that would save 5,760 m3 of gas per year. Total saving at toady's gas cost is: 184,135 hrv (~US$ 23,000 or CHF 25,000 or € 16,500) per year.
Total investment for the proposed efficiency enhancement project is: 60,000 hrv (US$ 7,500 or CHF 8,200 or € 5,350).
Any help will be appreciated by Olga and the children, to insure that kids don't feel cold during winter time.
Find out how you can make your donations here and if you live in the United States here!
or just click on the "PayPal Donate" button in the right column of this page!